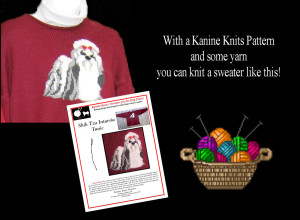 For the last twenty years, Peggy Gaffney has been designing portraits of dogs to be worn on beautiful sweaters and other accessories by those who love dogs. This has resulted in the creation of more than one-hundred different designs in individual knitting patterns and ten books. These can be ordered by those who'd like to wear something like this with their dog's picture worked into the design. Explore the pages displayed here and choose the pattern or book that will allow you to enjoy making something that shows your love for your "best friend."
There are well over one hundred individual knitting leaflet the subjects of which are the many breeds of pure bred dogs. The leaflets are in PDF form and can be ordered with a simple click on the pattern of your choice. After you check out in the shopping cart, you'll be sent an email with a link to your pattern. You need only click on the link and print out your pattern and you can literally be knitting in minutes the design of your favorite dog.
Below is a video where Peggy is interviewed about the knitting books she has written and which you can see on this website.
https://youtube.com/watch?v=8XvyTBIS1sw%3Ffeature%3Dplayer_embeddedframeborder%3D0allowfullscreen
NOTE:  IF YOU ARE VIEWING THIS ON A PHONE, KINDLE, OR iPAD, TO VIEW OTHER PAGES JUST CLICK THE LINES IN THE UPPER RIGHT CORNER.